Description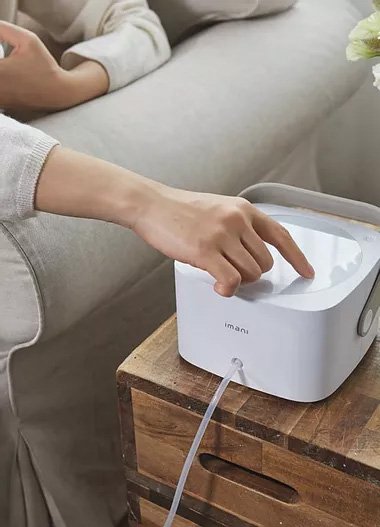 Level up your pumping game
The imani i1 Plus also features an array of pump cycles and a suction pattern that mimics the experience of natural breastfeeding. Its two main cycles, massage and express, include multiple vacuums on each cycle with 12 options of breast pumping mode and six options of massage mode.
​
Speed:
Massage Mode Cycle: 2 Levels

Breast Pumping Mode Cycle: 6Levels (30~80 times/min)
​
Suction / Pressure Level
Pressure in Massage Mode: 6 levels available 

Pressure in Breast Pumping Mode: 12 Levels available 50~270mmHg using double pump)
i1 Plus also boasts of a soothing 2-level illumination night light and quiet, barely there hum, to accompany you in your pumping session.
The sleek, efficient breast pump has a useful bonus feature called Booster Mode.
The Booster mode is available in both cycle paths after reaching the last vacuum action, giving mom a deeper pull that gently expresses her milk. In this mode, the sub-pump delicately controls the breast pump's suction in detail, without any loss of pressure. Whether pumping from one breast or both, this smart system maintains a constant pumping pressure so that there is consistent suction power.
Portable: No
Memory Function: Yes
Rechargeable:    Yes
With backflow prevention design:   Yes
Modes: 2 (Massage, Pump) + 1 (Booster)
Running time:  3.5 hours
Charging time: 3.5 hours
Auto-shutoff (in minutes): 30 minutes
Digital LED display: Yes
Smart Touch Panel: Yes
Night Light: 2-level illumination
Suction strength (mmhg): max at 320mmhg
Battery (mAh): 2000 mAh
Main pump weight: 1.35 kg
Charging cable: 15V 1.5A adapter
* Slight variations in color, translucency, texture are expected but do not affect the performance of the item.
Each i1 Plus Kit includes the following:
1 X Breast Pump (Battery-Powered), 2 X 5 oz/140 ml Bottle, 2 X Bottle Cap, 2 X Sealing Disc, 2 X Protector Cap, 2 X Protector, 2 X Valve, 1 X Air Hose Hub, 2 X Breast shield (24mm), 2 X Breast shield (28mm), 1 X Power Adapter
Measurement
Care instructions
Warranty
Measurement
To determine the correct size, measure the diameter of your nipple (not including areola) and add 3-4 in millimeters.
Example: 20mm + 3mm = 24mm (This is your size).
If you are between sizes, choose the bigger funnel.
*If you require a smaller size, you may add on an insert (available in 17mm, 19mm, 21mm) to your order.
Care instructions
Warranty