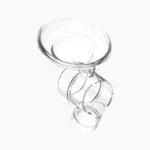 imani Connector (Clear/Essten), 1pc
₱399
This breast pump part holds the protector and connects the cup to your funnels.
Care instructions:
Wash with gentle detergent soap and water. Do not soak in hot water for more than 30 seconds.
Air dry before assembly.
For added protection, sterilize using a UV sterilizer or with hot water (no more than 30 seconds).

Do not steam sterilize or subject to high heat for an extended period.
Hurry! only 159 left in stock.